POSTED 10-10-23 // SOURCE: SENIOR PERSPECTIVE // BY JIM PALMER // jim@srperspective.com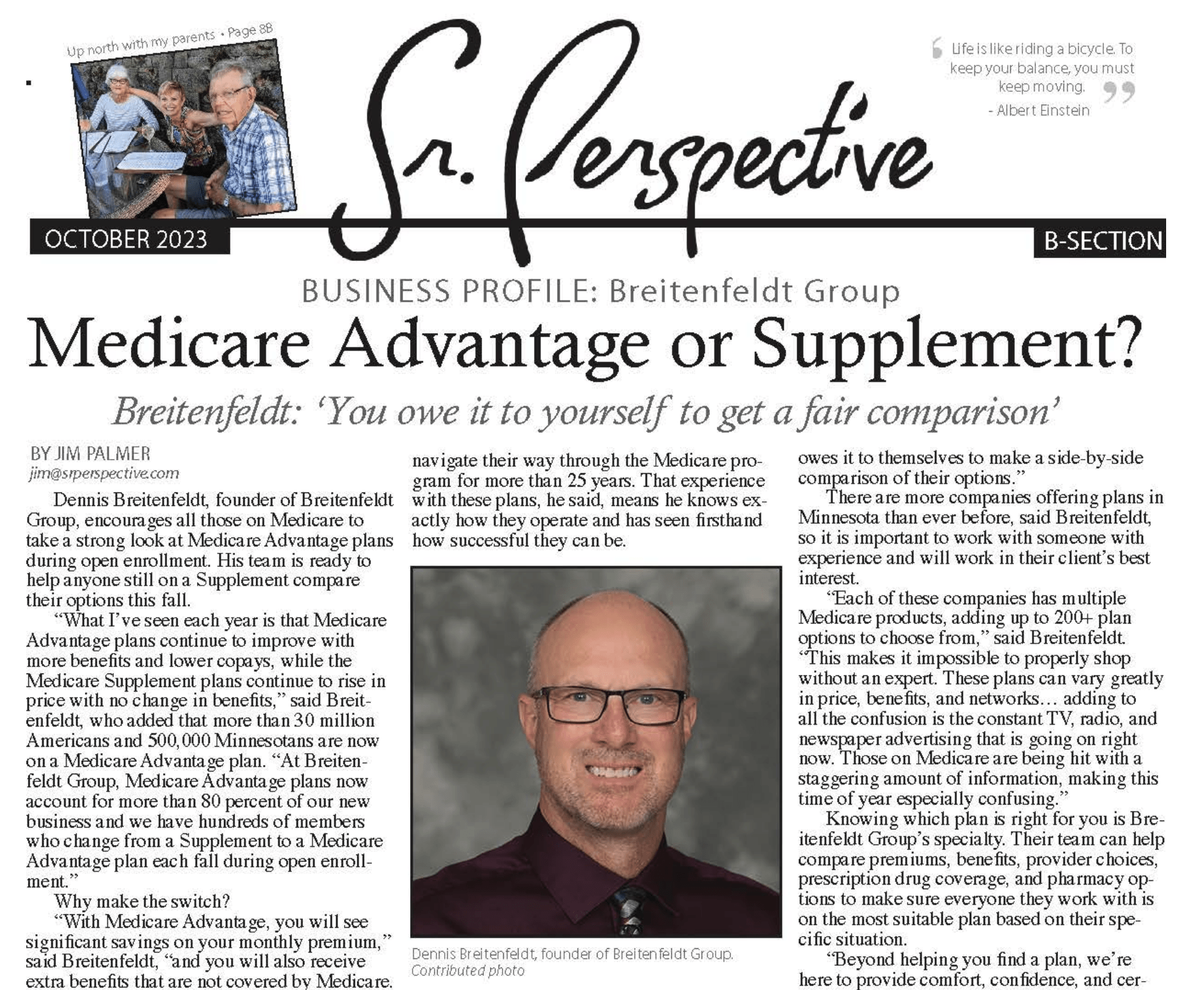 Medicare Advantage or Medicare Supplement?
"You owe it to yourself to get a fair comparison."
Dennis Breitenfeldt, founder of Breitenfeldt Group, encourages all those on Medicare to take a strong look at Medicare Advantage plans during open enrollment. His team is ready to help anyone still on a Supplement compare their options this fall.
"What I've seen each year is that Medicare Advantage plans continue to improve with more benefits and lower copays, while the Supplement plans continue to rise in price with no change in benefits," said Breitenfeldt, who added that more than 30 million Americans and 500,000 Minnesotans are now on a Medicare Advantage plan. "At Breitenfeldt Group, Medicare Advantage plans now account for more than 80 percent of our new business and we have hundreds of members who change from a Supplement to a Medicare Advantage plan each fall during open enrollment."
Why make the switch?
"With Medicare Advantage, you will see significant savings on your monthly premium," said Breitenfeldt, "and you will also receive extra benefits that are not covered by Medicare. In addition, you will be able to use one insurance card when you go to the doctor's office or the pharmacy, you can keep your same insurance company, and there are never any health questions involved."
Breitenfeldt Group has been helping people navigate their way through the Medicare program for more than 25 years. That experience with these plans, he said, means he knows exactly how they operate and has seen firsthand how successful they can be.
"These plans can offer significant savings and should be seriously considered, which is why I urge everyone on Medicare to schedule a review this fall," said Breitenfeldt. "I understand none of us like change, but I feel very strongly that anyone still on a Supplement owes it to themselves to make a side-by-side comparison of their options."
There are more companies offering plans in Minnesota than ever before, said Breitenfeldt, so it is important to work with someone with experience and will work in their client's best interest.
"Each of these companies has multiple Medicare products, adding up to 200+ plan options to choose from," said Breitenfeldt. "This makes it impossible to properly shop without an expert. These plans can vary greatly in price, benefits, and networks… adding to all the confusion is the constant TV, radio, and newspaper advertising that is going on right now. Those on Medicare are being hit with a staggering amount of information, making this time of year especially confusing."
Knowing which plan is right for you is Breitenfeldt Group's specialty. Their team can help compare premiums, benefits, provider choices, prescription drug coverage, and pharmacy options to make sure everyone they work with is on the most suitable plan based on their specific situation.
"Beyond helping you find a plan, we're here to provide comfort, confidence, and certainty to all our clients," he said.
And Breitenfeldt Group has been providing these things for people in Minnesota (and beyond) for over 25 years — and seniors all over the state have been singing their praises.
"Nothing makes me feel better than knowing most of our business is due to our current members referring their friends and family to us," said Breitenfeldt.
Breitenfeldt Group currently has over 300 5-star Google reviews, and Breitenfeldt believes that is a true testament to their team of experts and the one-to-one service they provide to their clients every day. And that customer service, he said, starts with good people who care about helping other people.
"When we look for employees, it's the empathy and insight that we value most," he said. "We pride ourselves in treating every client specific to their concerns and at their pace. There is no canned process or response. People want real answers from real people. Some just want to know what to do, others want longer explanations. We work hard to treat every client individually because everyone has different needs."
Those who enroll through Breitenfeldt Group can work with their team of experts throughout the year. "We encourage our members to always make us their first call. Even if it's as simple as ordering a new insurance card or asking about a bill, we're here for you."
A quick call to Breitenfeldt Group can eliminate the pain of having to call an insurance company.
"Calling insurance companies can be a painful process," said Breitenfeldt. "If it's ever necessary to call an insurance company, we make that call for you, or with you, to resolve any service issues throughout the year."
As individual needs change so can coverage during Medicare's Annual Election Period, which runs every year from Oct. 15 – Dec. 7. Breitenfeldt Group understands these changes, and every fall they perform reviews to make sure each of their clients has the coverage that fits their needs. A critical part of the yearly review, he said, is that it is done by an independent broker like Breitenfeldt Group.
"Your medical condition can change, your prescriptions can change, and the health insurance companies have the ability to make changes every year as well," Breitenfeldt said, "Your plan should be reviewed every fall by an independent source, not someone who sells for only one company. We work with all the major carriers in the state. This gives us the ability to analyze your complete insurance needs and shop for you."
In recent years, having your options reviewed by an independent source has been as important as ever, said Breitenfeldt. And that's because the Medicare Advantage market has really taken off in Minnesota. "It used to be that people going onto Medicare were picking a Medicare Advantage plan about half of the time. Now about 80 percent are deciding to select these types of plans."
This trend comes down to two things, he said — price and benefits.
"The prices have gone down and the benefits have gone up," said Breitenfeldt. Those on Medicare Advantage plans can also change their plan every year to suit their needs, no health questions asked. "People love that they have the freedom to change companies or plans each fall without going through all the health questions," he said.
Breitenfeldt Group has offices in Alexandria, Long Prairie, Waite Park, Maple Grove, Edina, Woodbury, and Roseville, with a team of advisors covering the entire state of Minnesota. They also have an office in Appleton, Wisc., and can assist all Wisconsin residents as well. In addition to services in Minnesota and Wisconsin, Breitenfeldt Group is licensed in other states so they can assist those who move to warmer climates but still want their insurance taken care of by Breitenfeldt Group.
All office locations work together and are connected through state-of-the-art technology, meaning there is never confusion when a call comes in or a person stops by one of the offices. "It doesn't matter who answers the phone, we know who you are and what is going on," he said. "There is no starting over with each call."
Having your own team of experts walking you through the process must cost something, right? Nope. All services by Breitenfeldt Group are offered at no charge.
"We will never send you a bill," said Breitenfeldt. "Medicare plans are the same price and same coverage no matter where you get them, whether using an agent or buying directly from the insurance company. That means you won't find a lower premium by shopping on your own. We are appointed with all the major insurance carriers to help you find a simple solution to your coverage needs. Our advisors are non-commissioned so together we can truly focus on your goals. If we change you to a new plan in the fall, it is for your benefit, not ours."
Those who are going onto Medicare for the first time, are within a year or two of Medicare eligibility, would like to change plans, or need help understanding their Medicare benefits can contact Breitenfeldt Group toll free at 1-877-732-9800 or info@BGhealthplans.com.
For their complete story and to get to know their group, visit Breitenfeldt Group's website at BGhealthplans.com.